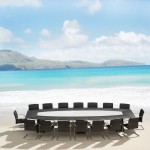 Meetings, like death and taxes, are an inevitable fact of business life. Many, unfortunately, turn out to be a huge waste of time.
Instead of generating ideas, engagement and commitment, meetings often zap team members' energy, replacing it with apathy and boredom. (photo courtesy freedigitalphotos.net)
Meetings become counterproductive when they lose focus, go on too long, dilute authority, diffuse responsibility and delay decisions. Routinely referring a matter to a meeting may satisfy those who are cautious and analytical, but this bad habit frustrates action-oriented risk takers.
Humans are a social species, and meetings fulfill an innate need. Loyalty increases when we participate in teams and meetings—as long as we perceive them to have purpose, value and meaning.
What can you do to ensure your meetings are productive and useful—not just socially satisfying?
This 920-word article examines the functions of meetings and how to keep them on target and valuable.
___________________________
This is a brief synopsis of a 920-word article and Article Nuggets,* suitable for coach newsletters and blog posts. It is available for purchase with full reprint rights, which means you may put your name on it and use it in your newsletters, blogs or other marketing materials. You may also modify it and add your personal experiences and perspectives.
The full article talks about several useful meeting fundamentals:
Functions of Meetings
Avoid Meeting Failure
The Agenda: Preparing for Meetings
The Leader's Job
Dealing with Subjects
Dealing with People
————————————————————————————
Request This Content:
Send us an email and let us know if you'd like to receive this article, Article Nuggets* or Newsletter (as applicable.) It is available in the following formats:
How to Get the Most Out of Meetings – 920-word Article with Full Reprint Rights, $57 –

      2.  How to Get the Most Out of Meetings – 3 Article Nuggets* with Full Reprint Rights, $64– 
 *Article Nuggets: The same article broken up into 3 blog-style sections suitable for a series of blog posts or shorter newsletter articles, with links and personal pronoun "I."