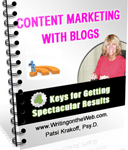 Recently my tennis pro, Woody Yokum, asked me to keep my left hand on my racket a little longer than usual as I brought my racket back for a right forehand. This helped me get more shoulder rotation.
Then I unleashed my stroke and hit the ball. BAM! The ball flew faster and harder than I'd ever hit before AND landed deep inside the court.
Did that ever feel good. This small tweak to my stroke means I get more power from rotating my entire body core.
So I got to thinking about how that applies to business blogging.
Adding tiny details to your blog posts helps your writing come alive, makes it more human and more
real. You never know what detail will resonate with a reader who has similar experiences. That's
what makes the difference between blogs that get results and those that don't get much interaction.
This is where your personality comes into play. People do business with people, not companies.
Sometimes a little tweak, a tiny detail, makes the difference between BAM! and bland.
I bring this up because ever since I founded The Blog Squad, I've been on a crusade to abolish boring business blogs.
So here's a suggestion: Download my free report, Content Marketing with Blogs. You'll have to enter your email onto the form on this page here, but I assure you your email is private and you won't be abused with endless emails or marketing messages.
I sincerely want you to get the best results from your business blog so you don't waste your time blogging for nothing.
I'd like to see you hit forehand winners down the line with all your blog content, every time you
post.
You can't do that unless you learn the nuances and power points of Content Marketing with Blogs.
Here's to your blogging success.