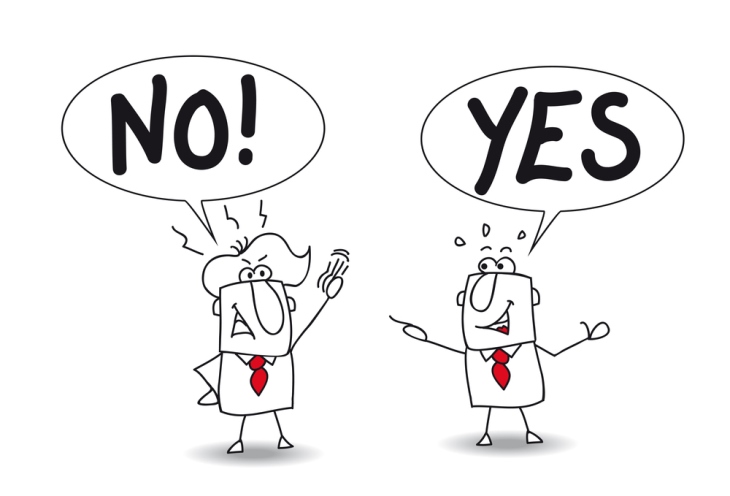 Conversations at work can often feel more like political debates and battles between egos. People with strong points of view argue and debate without anyone moving toward solutions or common goals.
Collaboration is difficult when conversations are competitive. Instead of dialoging together, co-workers try to outdo each other. Without fully listening, people are forming their own thoughts, just waiting their turn to jump in.
A common response to new ideas is often "No," or "Yes, but…" followed by, "That wouldn't work and I'll tell you why."
What if we could improve conversation skills so that everyone — supervisors, team leaders or individuals — connects more by engaging in creative, collaborative dialogue? Instead of debating differences and promoting our own opinions, the discussions would be supportive, friendly and fun.
Here's a suggestion: Simply replace "No" with a response of "Yes, and…" can make all the difference. This conversational rule comes from improvisational theater. The way improv comedians are trained turns out to be excellent for improving conversations at work as well.
This article explores how the rules of improv comedy improve conversations at work to increase innovation, creativity and confidence.
This is a brief synopsis of a 875 word article and 3 Article Nuggets*, suitable for consultants' newsletters for executives and leaders in organizations. It is available for purchase with full reprint rights, which means you may put your name on it and use it in your newsletters, blogs or other marketing materials. You may also modify it and add your personal experiences and perspectives.
The complete article includes these important concepts:
The Rules of Improv Comedy
Rule # 1: "Yes, and…"
————————————————————————————
Request This Content
Send us an email and let us know if you'd like to receive this article, Article Nuggets* or Newsletter (as applicable.) It is available in the following formats:
 1.  How Improv Comedy Improves Conversations at Work – 875-word Article with Full Reprint Rights, $57

2.  How Improv Comedy Improves Conversations at Work – 3-Article Nuggets* with Full Reprint Rights, $64

*Article Nuggets: The same article broken up into 3-5 blog-style sections suitable for a series of blog posts or shorter newsletter articles.