I'm not going to re-hash all the top reasons you should set up and write on a blog for your business. I'm sending you straight to this page where you can sign up and download a special report I wrote with Denise Wakeman as The Blog Squad:
Better Business Blogging: 4 New Concepts for Getting Spectaculor Results from Your Blog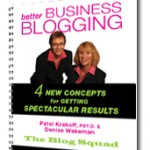 This report is extremely important if you want to understand the basics of business blogging and how this simple tool can bring amazing results for your online content marketing efforts.
Download it and read it. It's important. Then email me if you have questions about how to add a blog to your marketing tool kit.