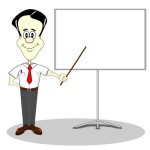 If you're a fan of TED.com, you probably remember the first time you viewed one of the company's free 18-minute online presentations. TED Talks are truly inspiring. If you're not yet familiar with them, you'll find that their speakers provide jaw-dropping stories you'll be talking about for weeks.
Originally focusing on technology, entertainment and design—hence, the initials—TED Talks features remarkable experts in diverse fields with revolutionary ideas. As some of the most viewed speakers in the world, they showcase their high-level presentation skills—a seamless blend of intelligence, entertainment and persuasion.

At some point in your career, you'll likely be called upon to make a presentation to potential customers, superiors and/or colleagues. Your ability to persuade others will contribute greatly to your overall success.
What can you learn from TED Talks that will help you select a topic, craft your narrative and fine-tune your delivery for your next presentation?
This article explores what makes a presentation effective, and suggests 6 ways TED Talks can help you improve your own presentations.
__________________________________________________________
This is a brief synopsis of a 950-word article and Article Nuggets,*suitable for consultants' newsletters for executives and leaders in organizations. It is available for purchase with full reprint rights, which means you may put your name on it and use it in your newsletters, blogs or other marketing materials. You may also modify it and add your personal experiences and perspectives.
The complete article includes these important concepts:
Successful Speechcraft
Select a Topic
Craft a "Catchphrase"
Open with Gusto
Build the Body and Transitions
Create Visuals that Inspire
Prepare a Conclusion
————————————————————————————
Request This Content:
Send us an email and let us know if you'd like to receive this article, Article Nuggets* or Newsletter (as applicable.) It is available in the following formats:
1.    6 Presentation Secrets from TED Talks 950-word Article with Full Reprint Rights, $57 –
2.    6 Presentation Secrets from TED Talks 3 Article Nuggets* with Full Reprint Rights,  $64 –
*Article Nuggets: The same article broken up into 3-5 blog-style sections suitable for a series of blog posts or shorter newsletter articles.
Photo courtesy freedigitalphotos.net