Content marketing with blogs is the most powerful way for you to spread your message, get known, get found, and get clients.
Even if most of your clients come from referrals, sooner or later, people will "Google" your name. What will they find?
A branded coach blog is the most powerful marketing tool on the planet, if you're using it right. I've recently visited as many coach blogs as I could find. Some of you are doing a great job in communicating your expertise and marketing your coach businesses, bravo!
Sadly, though, some of you are missing the boat. Others are waiting at the train station while your ship comes in…
Here's a quick report to help guide you: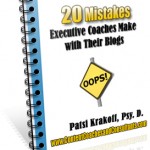 20 Mistakes Executive Coaches Make on Their Blogs.
Please enter your first name and email and I'll send it over to you. (Don't worry, I won't spam you and your email is safely guarded.)
Patsi