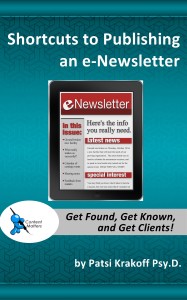 Click this link to download the PDF file,
(You will need Adobe Reader to open the document)


The document contains a list of questions for you to answer.
If you would like to write out your answers within the document,
click this link to download the RTF version,
Shortcuts to Publishing an eNewsletter.
I hope you get value from it. As always, your feedback is interesting to me.
As a bonus for requesting the Shortcuts to Publishing an e-Newsletter, you will be added to our BizBook Nuggets newsletter – Book notes for busy leaders.
If you have any questions about writing or publishing quality content, let me know. I can help you get found, get known, and get clients!
>> Content for Coaches and Consultants Home