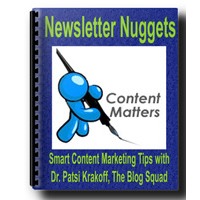 You're just one click away from getting updates on fresh, new articles and marketing tips for executive coaches and leadership consultants.
I'll send you a brief synopsis of a new article every month. (Hint: this is a different subscription than subscribing to get email updates from this site. Newsletter Nuggets offers special bonuses and privileges to you.)
Each month you get a brief synopsis of a professionally written and edited article. From time to time, I'll let you know about exclusive teleseminars and how to improve your Content Marketing.
When you subscribe today, you get two bonus reports:
10 Reasons to Do an E-newsletter AND a Blog
20 Common Mistakes Coaches Make with Blogs
…and a couple of other surprises.