There's no question that staying in touch with past, present and future clients by providing quality information is an essential marketing tactic. It doesn't matter if you're publishing a newsletter, blog, or white papers.
When you send out regular content consisting of valuable information people can use to make their work lives easier, faster, and smarter, readers remember you and will call you when they need services.
Here's How Content Marketing Works
It works according to the Law of Reciprocity. You provide quality information and your prospects remember you when it comes time to find a consultant or hire a coach.
But you don't have to spend your valuable time reading, researching and writing your own content. We'll do it for you: It's what we love to do.
Here's our story…
Patsi is founder of Content for Coaches and Consultants and was the Co-founder of The Blog Squad. As a doctor of psychology, she's been writing executive coaches' newsletters and blogs for over 15 years.
As a Ford National Journalism Scholarship Winner, she has been non-fiction for over 40 years. During the last 15 years, Patsi has been ghost writing leadership topics for executive coaches and consultants. Patsi has expertise in blog writing, content marketing, book creation, and writing on the web (www.WritingontheWeb.com). She is also certified as a business coach.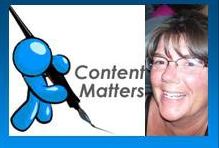 Kris loves working with other small business owners, professionals, and executives to increase their profitability through strategic development, training, marketing, communications, and finances.
Kris has been working with Patsi and Content for Coaches since 2010 as a writer  and editor, as well as a customer service, sales, and marketing specialist. She focuses her strengths by providing internet marketing tools for professionals: newsletters, blogs, social media, and ghost writing content on leadership development topics.